Frederik "acoR" Gyldstrand was once one of the most exciting AWPers in CS:GO making it through the ranks of the successful MAD Lions squad, where he later on were acquired by the proud Germans from mousesports.
Despite a promising start, the big transfer didn't pan out at all for acoR and after a lackluster period individually and a benching later, the Dane saw himself being pushed away from the competitive scene.
However, now it looks like acoR could be on his way back to the top of CS:GO with him presenting a stellar level for his new team GamerLegion. Something he touched on in a post-match interview with ESL yesterday.
It feels really, really good to be back and playing on the big stage if you could say that. I have had a long break, basically since December last year where I was benched. I have just been streaming, playing FPL and grinding to get my individually level back and reinvent myself.

When you get benched, you get some thoughts that you haven't had before. You have a lot of thinking material to actually learn from when these sorts of things happen.
acoR's matches for GamerLegion so far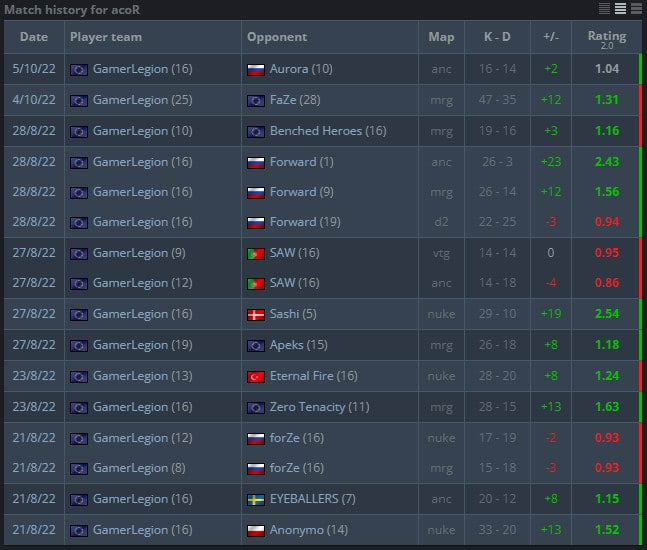 acoR has an average rating of 1.27 while playing for GamerLegion (Numbers from HLTV)
Pushing FaZe to the edge
GamerLegion came extremely close to beating the reigning Major winners and world leaders from FaZe in the opening round. In fact, acoR and company had several match points to solidify the impressive upset. In the interview, acoR also touches on the thrilling battle against FaZe and how they managed to recover by defeating Aurora yesterday.
It feels great to go up 1-1. We can take a lot away from the FaZe game yesterday. Even though we had slow starts against both FaZe and Aurora, we still played pretty good with that in mind.

I think we reset pretty good actually [after losing to FaZe]. I don't think we feel bad about the game because we put up a really, really good fight against the number one team in the world. Most of us, I feel like just were into the game studying what we can take away from the game because we played really good Counter-Strike.
Here is the entire interview with acoR.