It's time for the next stage of the BLAST.tv Paris Major. We hope you all followed our picks for the Challengers Stage, where we ended up having secured our five correct predictions before the last day of the stage.
Are you looking for the Champions Pick'em? Click on the link below.
Now things get tough though! Let's start by taking a look at the opening round match-ups.
NAVI vs GamerLegion
Fnatic vs NIP
Heroic vs FaZe
Into the Breach vs Apeks
Team Vitality vs G2
Bad News Eagles vs ENCE
9INE vs Liquid
FURIA vs Monte
0-3 pick: Both Apeks and Into the Breach would probably be among the teams with the lowest expectations towards this stage of the tournament. Now they face each other in the opening round, and will destroy a lot of 0-3 picks early on. As much as we like ITB, we have a hard time to find a team who fits this category more.
3-0 pick: We don't want to throw Heroic, FaZe, Vitality or G2 into this slot, as they all face each other in the first round. NAVI would be the best shout, but do we want to gamble with an otherwise certain qualifier? Instead, we go with the Polish team 9INE. They qualified for the event with wins against Vitality, G2, and BIG. We believe in hades and his countrymen to repeat that once more.
That leaves us with seven picks for teams, that we believe will go either 3-0, 3-1, or 3-2. Here NAVI, Heroic, Vitality, G2, FaZe, and ENCE should be locked in as the first six. We pick FURIA as our last team to advance. The Brazilians have made it through to the playoffs the last three Majors, and we think they can do it again.
Good luck in your Pick'ems!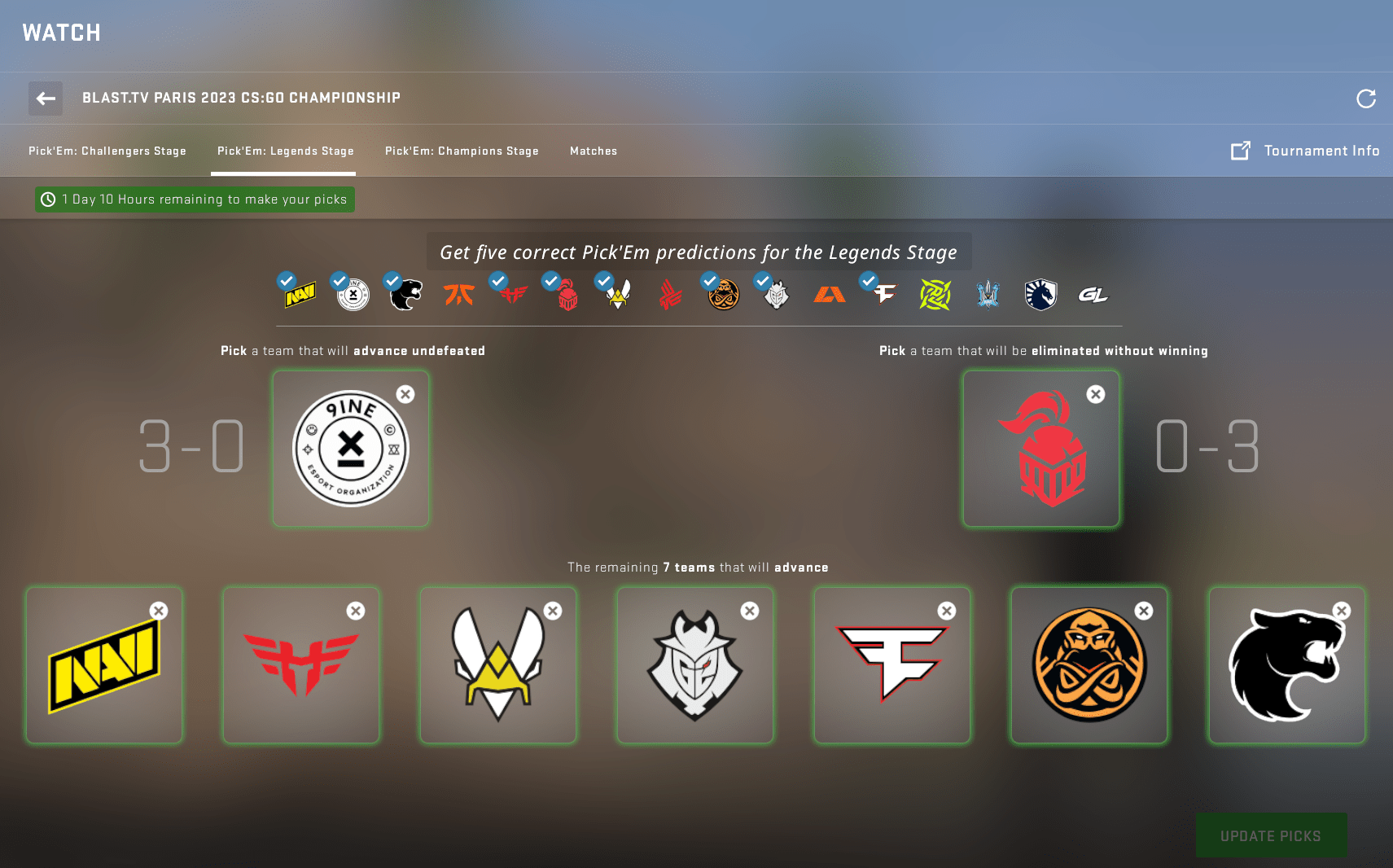 Our Picks:
0-3: Into the Breach
3-0: 9INE
To advance: NAVI, Heroic, Vitality, G2, FaZe, ENCE, and FURIA.