It's time for a new piece in our Graffiti series! The article series honours some of the most iconic plays in the history of CS:GO, which all got immortalized by Valve.
The Swedish CS:GO team of Fnatic is one of the most renowned and biggest teams in the history of the game, and has for many people been equal to high success when talking about competitive Counter-Strike.
During the Grand Final at the Major Championships at ESL One Cologne in 2015, where Fnatic was up against the superstars from Team EnVyUs, the Swedes decided to bring in a completely new and unseen strategy – Something, you only think you'll see in a non-pro server.
In overtime on the first map on Dust2, the heavy-stacked Fnatic team decided to make a heavy invest and go all-in on their weapon arsenal, by equipping no more than four AWPs in one round. Every member of the roster set their sights towards middle for a potential peek by the Counter Terrorists. Right after the round start, a completely unaware and almost helpless Dan 'apEX' Madesclaire from EnVyUs chose to take a peek up at T-spawn. He was met by these four sniper rifles who all had their scope set on him, and the rest is history...
You can watch the iconic encounter right here.
Valve decided to immortalize the play by adding a permanent graffiti illustrating a man holding four AWPs in his hands near T-Spawn on Dust2. However, the graffiti was removed from the map in an update in 2017.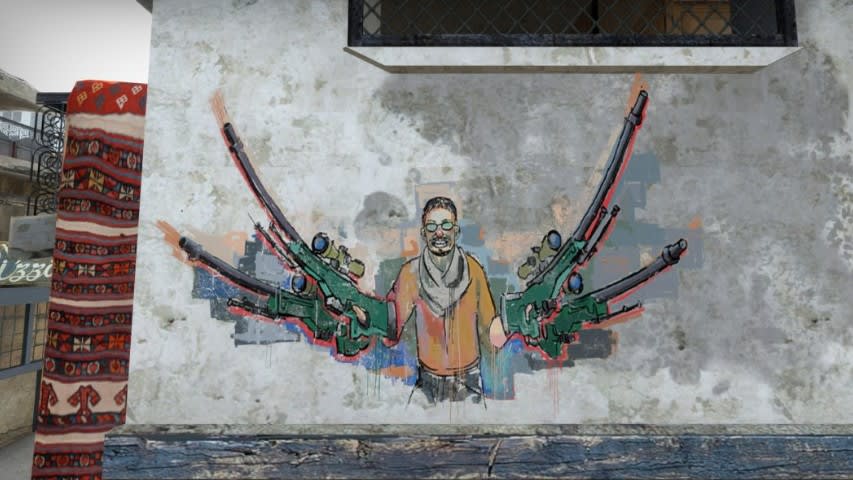 Our Graffiti series: