It's soon time for the Pick'em Challenge. When released, you can find the Pick'em Challenge inside of CS:GO, where you can buy a viewer pass for the 2023 CS:GO Major in Paris. This gives you the option to earn a special diamond coin if you make the right picks throughout the tournament. You will also earn souvenir cases to open. The Pick'em Challenge is expected to be released within the next few days.
To see our picks for the Legends Stage, click the article below.
Challengers Stage:
The first stage of a CS:GO Major is called a Challenge Stage. Here 16 teams fight for the eight spots in the Legends Stage, where the highest-ranked teams await.
In CS:GO Pick'ems, your job is to find a team going 3-0, and another team going 0-3 in the Challengers Stage. Then you pick seven teams to advance to the next stage. You only need five correct answers to complete the task. And this is important.
The easiest job is to pick the 0-3 team. Here a couple of teams stand out. At the last Major, both Grayhound and The MongolZ (IHC back then) ruined everybody's pick by winning a game. So this time around we will stay away from the two teams and instead choose Fluxo. The Brazilian team qualified by beating yur, BESTIA, and Paquetá in what seems like one of the easiest routes to the Major. Fluxo however lose on a regular basis to teams ranked higher than themselves including paiN Gaming, who they will face in the opening round. We believe Fluxo to be a good pick for the 0-3 spot.
Our 3-0 pick is a little more complicated. We don't want to waste one of the teams, that we are sure will qualify. Our 3-0 pick will instead be used on a team that could either upset everyone or possibly go out. We think Monte should be considered in this category. The Ukrainian roster won both their bo1 games in the stacked EU RMR Group B (they won against ENCE and Cloud9), and could be a decent shout for the 3-0 pick. But the roster can also lose to teams such as HEET, so our pick could go south very quickly.
That leaves us with seven picks for teams that we think will qualify. It doesn't matter if they go 3-0, 3-1, or 3-2 in matches won.
FaZe and G2 should go through no matter what despite the disappointment of the last Major (G2 didn't even qualify). Team Liquid is also a very solid pick to advance. Ninjas in Pyjamas might not be at their best, but they still have a decent bottom level. ENCE has looked very shaky but did perform very well at the last big tournament at ESL Pro League. We give them the benefit of the doubt. We rate paiN Gaming as the second-best team from the Americas in this group and could see them sneak their way through. The last team on our list is OG. Somehow OG has made it work with Nikolaj "niko" Kristensen as their in-game leader. The firepower of degster and flameZ can carry them a long way, and they round off our list.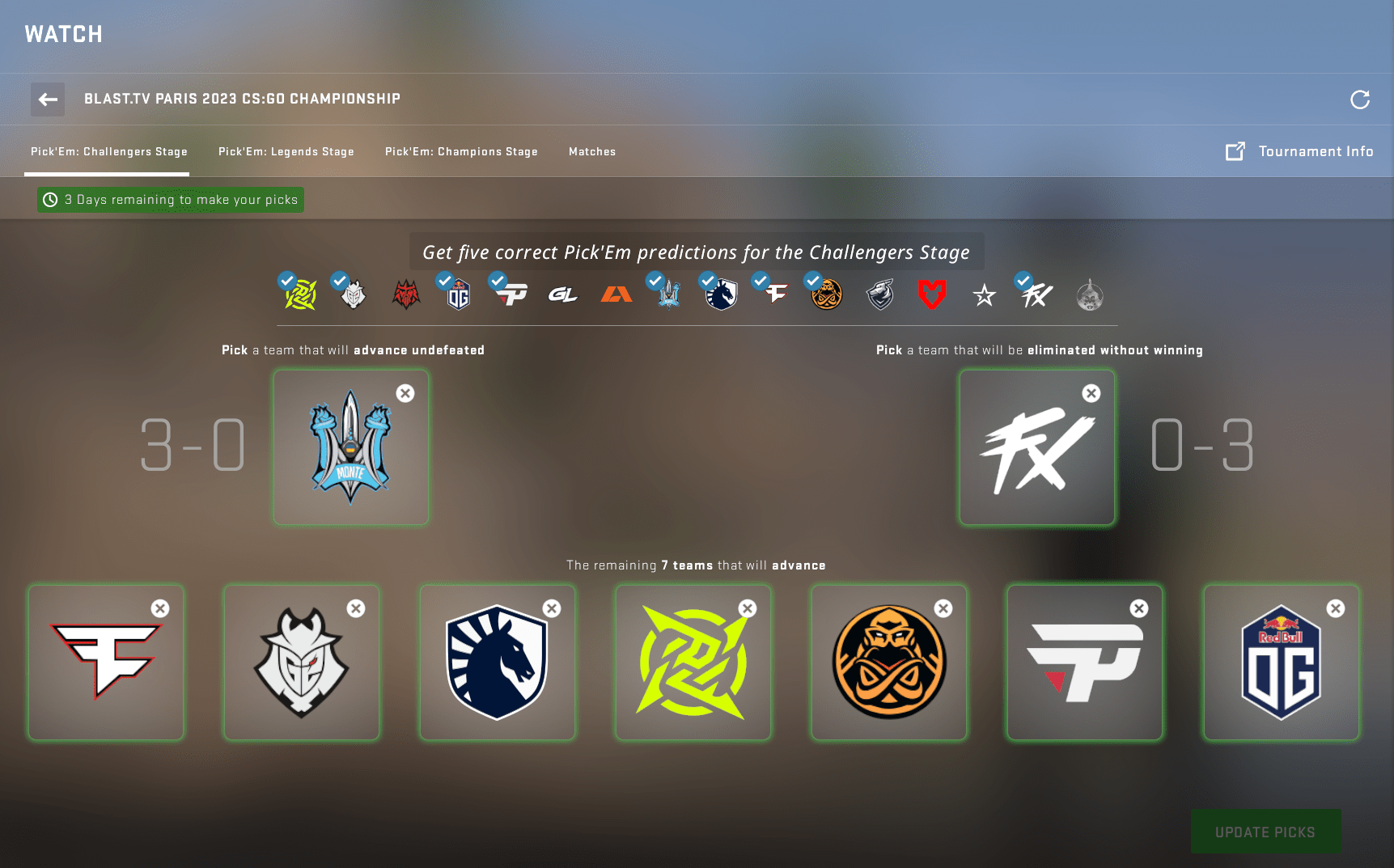 Our picks
So, to sum up:
3-0 pick: Monte
0-3 pick: Fluxo
Teams to advance: FaZe, G2, Team Liquid, Ninjas in Pyjamas, ENCE, paiN Gaming, and OG.
GL in your Pick'ems!