Ever since Nicolai "dev1ce" Reedtz made his comeback to competitive play in December last year for Astralis, a new superstar duo in Counter-Strike saw the light of day.
Together with his new teammate and hard-hitting rifler Benjamin "blameF" Bremer, dev1ce has managed to shape up an extremely strong partnership.
- I like devve [dev1ce] a lot, blameF said to us and continued to explain their relationship on the server:
- He takes a lot of initiative on the server and brings a lot of ideas on how we should do certain things. I think me and him are a good match when it comes to finding a balance and giving each other space - now that we are holding a lot of positions together. Obviously, we as a team have to play around him a lot to make sure he's set up as the star player who makes a difference, and ensure that he's feeling comfortable with the most important gun in the game. 
Top 5 highest-rated duos since dev1ce's comeback
1.
NiKo and
m0NESY (G2) | 1.23 rating / 1.19 rating
2.
blameF and
dev1ce (Astralis) | 1.25 rating / 1.16 rating
3.
XANTARES and
Calyx (Eternal Fire) | 1.24 rating / 1.15 rating
4.
Twistzz and
broky (FaZe) | 1.22 rating / 1.14 rating
5.
Jame and
fame (Outsiders) | 1.18 rating / 1.10 rating
(From matches against Top 20 teams)
Great things in sight
We spoke with dev1ce earlier this year about this new superstar duo, where the AWPer stated that the two of them will achieve 'really great things together'. Something blameF is ready to agree on.  
-Yeah, I hope I can achieve great things with devve. He's a great guy both in and out of the server and I do believe he will become one of the best AWPers in the game again in the near future. So, if I can keep up my form as a rifler we have a good chance of winning some tournaments together eventually, blameF stated.
Question: Are you surprised that dev1ce has played so good and that he's managed to keep up with the best since his coming back?
blameF: - Not really. From the first day he came into the team he has been very hard working, always putting in extra time after our official practice, and he has been very good at progressing every day in his spots. 
What is something you have learned from dev1ce ever since he joined the team? Could be both off and on the server.
- He values the social aspect of the team a lot, and I think he's been great at building friendships with all the players from the team including the ones he didn't play with before. He is an awesome team player, knows everybody here, and has been a vital part of the good chemistry from the beginning.
Fun little statistic: dev1ce and blameF has been the two highest-rated players for Astralis in 13 out of the last 18 series (72%).
Can you try to put some words on your role in this Astralis system?
- I am more aggressive now in my new roles on T-sides. Usually, I'm one of the guys running in first on set strats - in defaults I'm the one taking map control, so in those rounds, I'm usually also one of the guys creating space for my teammates. On the CT sides not much have changed besides a couple of roles, but nothing major.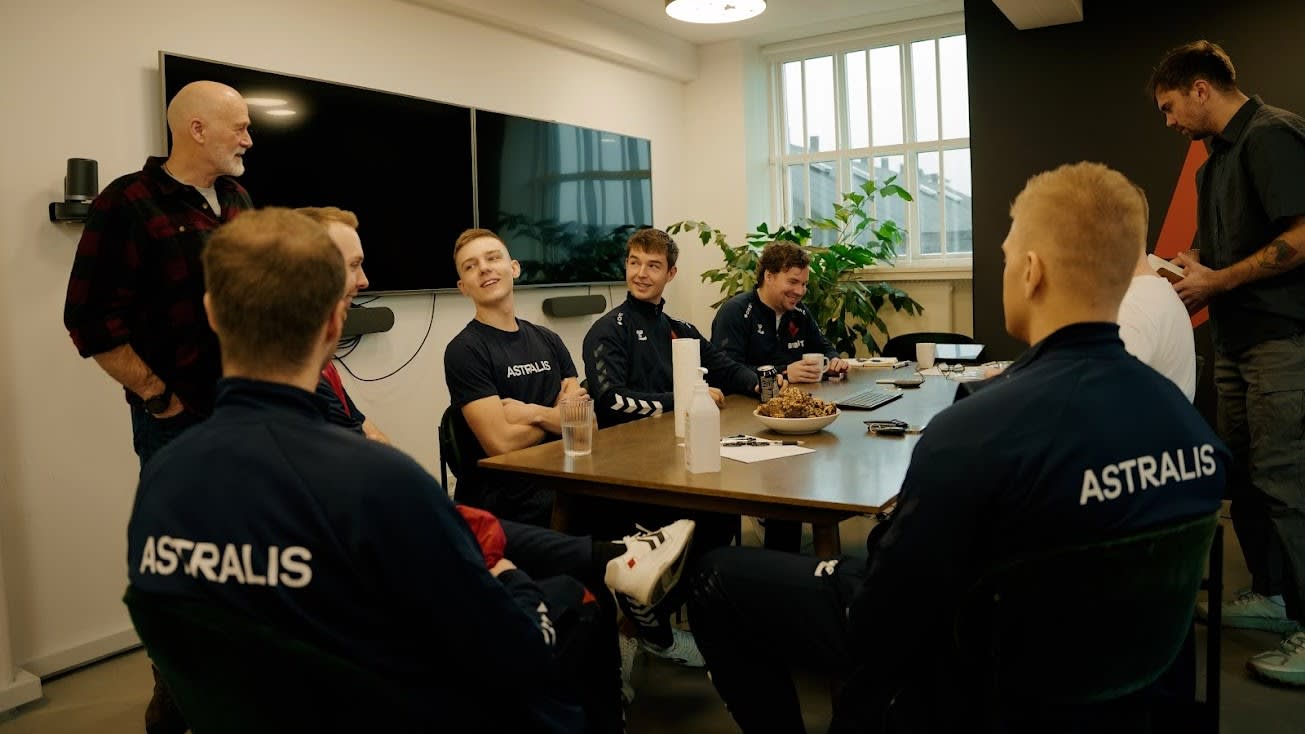 Astralis anno. 2023 - Image credit: Astralis