Gambling takes various forms, including casino games, sports betting, lotteries, poker, and more. Due to the continued increase of online gambling, players have access to plenty of online gambling mobile apps as well as esports mobile apps that are accessible to both Android and iOS devices. So, you must visit the Google Play Store or App Store to download, install the app, and start betting on your favorite games. For this reason, we will look at some reputable apps, how they work, and how to choose the best. 
Online Gambling Mobile Apps
Online gambling mobile apps allow users to gamble on casino games such as slots, roulette, and blackjack directly from their smartphones or tablets. These apps replicate the experience of visiting a physical casino. However, they are more convenient and offer a wider variety of games than brick-and-mortar casinos.
Because of the tremendous growth in the online gambling industry, numerous online betting casino apps have been developed to cater to the demand for virtual casino gaming on mobile devices. For example, in a recent study, over 500 online casino apps are available in the United States alone. Therefore, we will look at some of the best mobile gambling apps you can use whenever you are playing. 
Best Mobile Gambling Apps
BetMGM. BetMGM is a leading online casino and sportsbook operator with a wide variety of games, including slots, table games, and live dealer games. It offers plenty of bonuses and promotions, a safe gambling environment, and 24/7 customer support. Additionally, players can easily switch from casino gaming to sports betting seamlessly if they get bored. 

Caesars Casino. Caesars Casino is among the best mobile gambling apps. It is a popular casino online app that offers a variety of slots, table games, and live dealer games. The user-friendly app also provides a variety of bonuses and promotions, including a welcome bonus of up to $3,000. Similarly, it uses encryption technology to protect users' personal and financial information, offering a safe and secure gaming experience. 
FanDuel. With the FanDuel online gambling mobile app, new users and existing players get generous bonuses that boost players' chances to win. It also hosts a variety of tournaments where users can compete for prizes. Additionally, players can access live dealer games, 24/7 customer support, and a user-friendly interface.  

DraftKings Casino. DraftKings Casino is a newer online betting casino app, but it is still among the best mobile gambling apps. Not only does it offer over 300 games, but it also offers exclusive games you won't find anywhere else. It also provides a variety of bonuses and promotions and swift payouts. 

Unibet. Unibet online gambling mobile app is a reputable and well-established operator licensed and regulated in several jurisdictions. It offers competitive odds on its casino games, giving you a good chance of winning. Additionally, it provides a variety of secure payment methods, so you can deposit and withdraw money easily. Overall, this is among the best mobile gambling apps that will exceed your expectations. 

Borgatta. The Borgata Casino online app has a wide range of games, from new online slot games such as Adventures of Doubloon Island to new American and European roulette variants. They also have generous welcome bonuses such as deposit match bonuses and free spins. 

Betrivers. Betrivers casino online app offers a quality gameplay experience with quality games from the best software providers such as NetEnt and IGT. This makes it among the best mobile gambling apps, not forgetting they also offer low wagering requirements and mindblowing bonuses that range from giveaways to casino tournaments.
Are Online Gambling Mobile Apps Legit?
Legitimacy in the context of online betting casino apps refers to whether they are licensed, regulated, and operate per legal and ethical standards. Legit online casino apps exist, but there are also fraudulent or unregulated platforms that players should be cautious of. Here's how you can determine their legitimacy:
How to Pick The Best Mobile Casino App
Licensing and Regulation.  Legit online casino apps are licensed and regulated by reputable authorities or gaming commissions in specific jurisdictions. Therefore, verify the app is regulated and operates legally. You can achieve this by checking user reviews, ratings, and testimonials in the Google Play Store/ App Store and online forums. Positive feedback indicates a casino betting app with satisfied players.

Security and Privacy. Look for online gambling mobile apps that use encryption technology to protect your personal and financial information. Check its privacy policy to understand how your data is handled.

Fair Play and Randomness: Legit online casino apps use random number generators (RNGs) to ensure fair and unbiased game outcomes. They often provide information about the fairness of their games and auditing practices.

Transparency. To have a smooth and safe gaming episode, always check the terms and conditions of the app, including bonuses, promotions, and withdrawal policies. Avoid casino online apps with unclear, suspicious terms or slow withdrawal times. 

User Interface and Experience. Opt for legit online casino apps with a user-friendly interface, smooth navigation, and intuitive controls. In addition, the app should provide a seamless and enjoyable gaming experience without any glitches.

Bonuses and Promotions. It is recommended to compare the bonuses and promotions offered by different online gambling mobile apps. Settling for ones with welcome bonuses, free spins, deposit matches, and ongoing promotions adds value to your gaming and extends your playtime. 

Mobile Compatibility. Confirm the app is compatible with your mobile device's operating system (iOS or Android). You should be able to enjoy the app without technical issues.

Payment Method and Withdrawal Speed. Always settle for online betting casino apps with numerous payment methods, such as credit/debit cards, e-wallets, and cryptocurrencies. Similarly, research its app's withdrawal processing times and any applicable withdrawal limits.

Responsible Gambling Tools. Choosing a mobile gambling app that offers responsible gambling features, such as setting deposit limits, time limits, and self-exclusion options to promote healthy gaming habits, is recommended.
How Does an Online Gambling Mobile App Work?
An online betting casino app works similarly to traditional brick-and-mortar casinos. The main difference is that the games are played on a mobile device instead of a physical table or machine. To access a casino online app, you need to download it from Google Play Store or App Store. However, the basic steps include; 
How to Download an Online Betting Casino App
Choose legit online casino apps. To ensure you download the right one, go to the casino's official website and look for the "Mobile App" section. Remember to check if the app is available in your region. 

Download the app from the App Store if you use an iOS device like an iPhone or iPad. If you use an Android device, you will download it from the Google Play Store. 

Tap the "Install" button to start the download and installation process.

After you install the online betting casino app, open it and log into your existing account. If you don't have one, you must register a new account by providing personal information such as email address and identification documents. 

To start playing, deposit funds into your account, considering the minimum deposit amount set by the casino. 

Once you fund your account, explore the online gambling mobile apps game library, place bets, and enjoy various casino games.
Esports Mobile Apps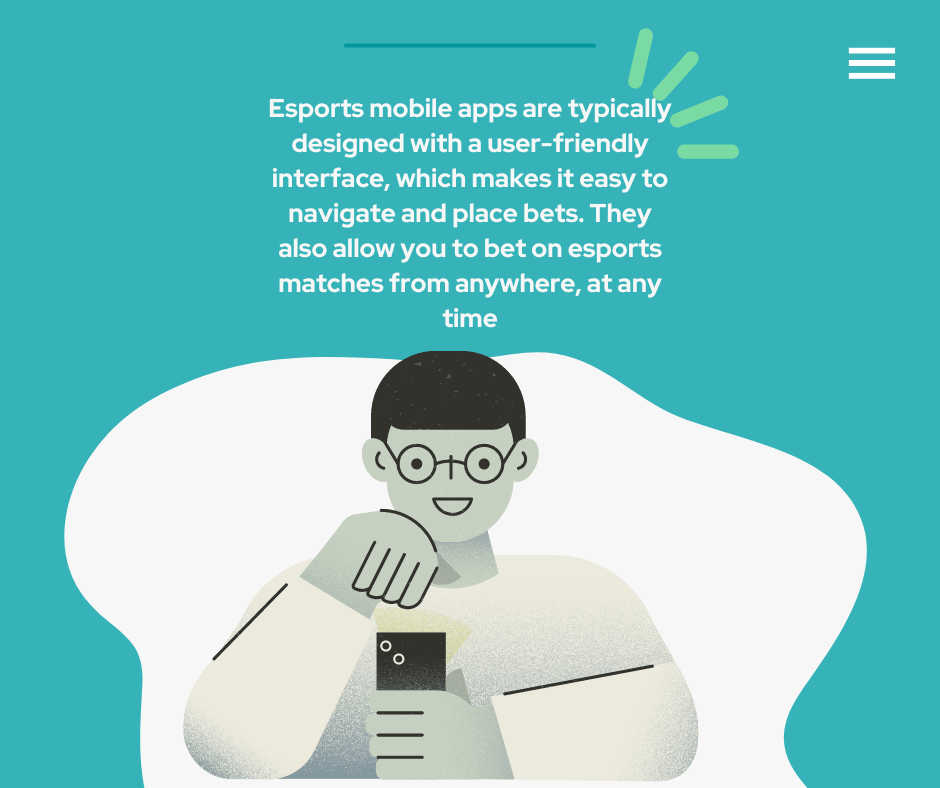 Esports, short for electronic sports, refers to competitive video gaming where players and teams compete against each other in various video games. On the other hand, esports mobile apps allow users to place bets on the outcomes of esports matches and tournaments. Players can wager on various aspects of the games, such as match winners, map outcomes, and player performance.
Additionally, they can watch live broadcasts of esports tournaments, matches, and events, following their favorite players and teams in real-time. It is important to note that esports betting is similar to traditional sports betting but with the added complexity of understanding the different video games and their strategies.
Similarly, before using any esports app, make sure that online gambling and esports betting are legal in your jurisdiction. Regulation varies by region, so some esports mobile apps might not be available in some countries. In this segment, we will focus on different types of esports mobile apps and how they work.
Best Esports Betting Apps  
Despite there being many esports betting sites, some do not have dedicated esports apps. In this case, players can always play in the browser from their mobile devices. Often mobile, optimized browsers are easy to use and navigate and offer the same features as the desktop website. However, plenty of best esports betting apps are available, each with strengths and weaknesses. Some are; 
Bovada. Bovada esports mobile app is a reputable app with a good track record of paying out winnings. It offers various esports betting markets, including live betting and in-play betting. The esports betting app also offers a variety of promotions and bonuses as well as esports betting games such as CS: GO, Dota 2, Kings of Glory, League of Legends, Starcraft, and Valorant. 

Thunderpick

. Thunderpick is among the best esports betting apps and crypto gambling platforms that offer an esports mobile app for Android and iOS devices. The app offers various betting markets on various esports events, including CS:GO, Dota 2, League of Legends, and Valorant. The app is easy to use and navigate, and its homepage features a list of the most popular esports events and a live betting section. 

BetUS. The BetUS esports app offers a safe and secure way to bet on esports. It provides generous bonuses, swift payouts, and an easy-to-navigate interface that ensures bettors navigate and bet effortlessly. Some e-sports betting games you can play are; CS:GO, Dota 2, League of Legends, Valorant, FIFA, and NBA 2K.

BC.Game BC.Game is a crypto sports app available for both iOS and Android devices. The betting markets on the app are similar to those on the website. You can bet on the outcome of matches, the number of maps played, and the total number of kills. Additionally, you can also place live bets on ongoing matches.

GG.bet. GG.bet android app offers a wide variety of markets, competitive odds, and generous bonuses. Similarly, they have a user-friendly interface and multiple payment options. Overall, the site offers an excellent and industry-leading esports betting service, making it one of the best esports betting apps. 

Bets.io.  Bets.io esports app is optimized for all portable devices, providing the best gambling experience on Android and IOS mobile devices. It has countless esports games and supports many cryptocurrencies. You can also earn bonus points for every bet you place, which can be redeemed for free bets or other rewards.
The Differences Between Esports Betting and Sports Betting
If you are wondering how different esports betting is from traditional sports betting, the differences are; 
| | |
| --- | --- |
| Esports Betting  | Sports Betting  |
| Involves competitive video game tournaments | Involves real-world sports events |
| Bet on real-time outcomes of sports | Bet on outcomes of virtual game matches |
| Occurs in physical venues, stadiums, and arenas  | Occurs in online platforms and virtual arenas  |
| The bets are on games such as football, basketball, and tennis | The bets are on games such as League of Legends (LOL), FIFA, CS:GO, Dota 2, etc. |
| Betting odds based on team/player stats | Betting odds based on in-game statistics |
How Does Esports Betting Work?
Before you decide to use esports mobile apps, there are a few things you need to know; 
Esports Betting Games
There are many different genres of esports betting games you can bet on; however, we will only look at a few examples:
First Person Shooters (FPS). In FPS, the player experiences the game from a first-person perspective, seeing the game world through the eyes of the protagonist or player character. Some popular games in this category are 
Counter-Strike: Global Offensive (CS:GO). Teams of terrorists and counter-terrorists compete in various game modes, including bomb defusal and hostage rescue.

Overwatch. Teams of heroes with unique abilities compete in objective-based game modes.
Multiplayer Online Battle Arena (MOBA). MOBA) Games are a popular genre of competitive video games that emphasize team-based strategic gameplay. The game's ultimate objective is to defeat the opposing team, often in a symmetrical or asymmetrical arena-style setting. Some famous MOBA games include; 
League of Legends (LoL). One of the most popular MOBAs, where players choose champions and battle in the fictional world of Runeterra.

Dota 2. Known for its complex mechanics and deep strategy, Dota 2 features a vast hero roster and a competitive scene with The International as its flagship tournament.
Sports Simulation. These simulate real-world sports and related activities. They typically feature realistic graphics and allow players to control the actions of individual players or teams. 
FIFA. Players control soccer teams and compete in virtual soccer matches.

NBA 2K. Gamers control basketball teams and participate in realistic basketball simulations.
Other popular games are; Fortnite, Starcraft II, Call of Duty Street Fighter, Rainbow Six Siege, Rocket League, Valorant, Honor of Kings, and Age of Empires. 
Knowing the eSports betting games before you bet on eSports is important because;
Understanding how a game works is essential for making informed betting decisions. With knowledge of the game, you can interpret match situations, player strategies, and potential outcomes.

Betting odds are determined based on the perceived likelihood of different outcomes. If you're knowledgeable about a game, you might spot odds that seem misaligned with your expectations, potentially presenting betting opportunities.
Different Types of Esports Bets 
The types of bets in traditional sports betting and esports mobile apps are the same. These include moneyline bets, point spreads, over/under bets, and prop bets. Understanding the different types of bets is vital to help you make informed decisions. For example, some bet types carry higher risks than others. Understanding these risks enables you to manage your betting budget and avoid over-committing to bets with unfavorable odds.
Additionally, Different bet types require different strategies. For instance, handicap betting might be suitable when a clear favorite is expected to win significantly. At the same time, match-winner bets might be preferred when the teams are evenly matched. Knowing when to use each type of bet can enhance your chances of success.
How To Bet Using Esports Mobile Apps 
To bet using esports apps, you need to: 
Choose a reputable esports mobile app that offers a variety of esports markets and tournaments.

Search the esports app's official app store (e.g., Apple App Store or Google Play Store). Download and install it on your mobile device.

Open the app and create a new account if you're a new user. This typically involves providing your details, including your email address, and creating a password.

To bet on esports, you must deposit into your account. You can do this using various methods, such as credit card, debit card, or PayPal.

Browse through the esports app to explore the available esports markets. You'll find different games, tournaments, and betting options. Remember to check the available odds. 

Select the type of bet you want to place. Common types of bets include match winners, map winners, over/under bets, and handicaps. Review the odds associated with each bet.

Once you've decided on your bet, click on the selection to add it to your bet slip. Enter the amount you want to wager. The app will display your potential winnings based on the odds.

After placing your bet, you can watch the match live if the esports mobile app offers live streaming. Monitor the match and see how your bet is progressing.

If your bet wins, your winnings will be automatically credited to your betting account. You can choose to withdraw the winnings or continue betting.
How Online Gambling and Cryptocurrencies Affect the ESports Industry 
Here are 2 major examples of how online gambling has affected the esports industry. First, it has increased viewer engagement during esports events since more players tend to be invested in the outcome of the matches, resulting in higher viewership numbers for live streams and tournaments. 
Second, esports organizations and platforms have capitalized on the popularity of gambling by partnering with betting companies and generating sponsorship deals and advertising opportunities. For example, this could include placing the betting company's logo on team jerseys, event banners, and other promotional materials.
On the other hand, esports platforms have integrated blockchain technology to enable the ownership, trading, and transfer of in-game items through cryptocurrencies. This enhances player ownership and creates a secondary market for virtual assets. Similarly, players often bet on esports matches, especially where it is more popular and there are more betting markets available. This is why a guide on how to bet on esports with Bitcoin will give you a seamless and enjoyable betting experience. 
Additionally, esports organizations have benefited from sponsorships with crypto companies since they look for younger audiences, and esports sites are a perfect place. Similarly, they use cryptocurrencies to generate new revenue streams. For example, some esports platforms sell team tokens that fans can use to vote on team decisions or earn rewards. 
In summary, online gambling and cryptocurrencies have brought financial benefits, increased engagement, and innovative opportunities into the esports industry. As each sector continues to develop, it will likely have an even greater impact on the esports industry in the years to come.
Conclusion
Online gambling mobile apps allow users to access and play various casino games directly from their smartphones or tablets. These apps provide a virtual casino experience, replicating the games and features found in traditional casinos. Additionally, they offer a convenient way for players to enjoy their favorite casino games without leaving the comfort of their seats. Most importantly, these online betting casino apps are designed with user-friendly interfaces that make it easy for players to navigate the app, select games, place bets, and manage their accounts. To have an enjoyable gaming experience, players should pick reputable and some of the best mobile gambling apps such as BetMGM, FanDuel, Caesars, and BetRiers. 
Video game lovers can opt for the best esports betting apps that offer a variety of esports events to bet on, including major tournaments, adding an extra layer of excitement to the esports experience. They can also bet on esports such as Call of Duty, FIFA, CS: GO, Dota 2, Kings of Glory, League of Legends, Starcraft, and Valorant. In addition, esports mobile apps provide users the convenience of accessing esports content, news, and updates directly from their smartphones or tablets. Online gambling mobile apps and esports apps are often available on Android and iOS devices; however, players must pick the right and secure apps.