A new and promising Counter-Strike team were announced last month when Preasy Esport signed a Danish quartet of players, headlined by the former Heroic rifler Ismail "refrezh" Ali and the strong AWPer Nico "nicoodoz" Tamjidi.
In charge of the team, will be the Danish coach Daniel "Vorborg" Vorborg, who has returned back home after a one-year tenure at Evil Geniuses.
We have had the opportunity to speak with the 31-year-old head coach to hear about the new project and why Preasy is not just a new "Copenhagen Flames" in disguise.
Building the team
But we start off by hearing his ideas behind the roster composition – a process where Vorborg ended up speaking with "15-20 players in the Danish scene", he explained.
- It was a tough task [creating the roster]. Because it was very late into the off-season that I agreed to join Preasy, so tournaments had already started, and a lot of players already knew where they were going, but there were still a lot of options on the market. (…) As long as I was working within the budget given to me, then I basically had like full control of what the team should look like, Vorborg said and continued:
- I knew refrezh and Nicholas [nicoodoz] were still looking for a team, and those two were the first guys that I reached out to. Of course, I had worked with them previously and I enjoyed working with both of them, and I think they are capable of playing at a very high level.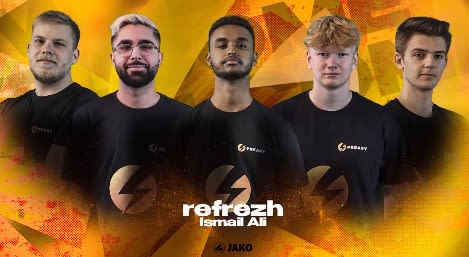 The Preasy roster: TMB, nicoodoz, refrezh, Altekz and tOPZ
Does it look familiar?
A clear resemblance that comes to mind when looking at this new Preasy project is the representation of former Copenhagen Flames personalities.
Two of the key pillars in this Preasy project in Vorborg and the new CEO, Steffen Thomsen have also played a significant role in the now-closed CPH Flames. Furthermore, TMB, refrezh and nicoodoz have all been through their successful talent factory in the past.
So, is Preasy just a replica of Copenhagen Flames?
Despite admitting that there are some similarities, Vorborg pointed out one significant distinction: The financial backing of the team.
- I think the biggest difference is that we already now have a higher budget. It's not necessarily that we're spending it all right now because we need to prove some results and show what we're capable of as a team. But the idea is that if we make the same kind of results that we did in Copenhagen Flames then we will be able to reward the players by upping their salaries and making it attractive to stay. Therefore, not necessarily be a place where as soon as the team has some kind of success, the player should be sold. So here the idea is not to sell like 20 players or how many I ended up selling at Copenhagen Flames.
- The idea is that we can give salaries that are competitive for a team that's going to be ranked around like top 10 in the world, Vorborg explained.
What do you think will set this roster apart from other teams in the scene, and how will you guys play Counter-Strike?
- I think the way that we try to play Counter-Strike to me is different than a lot of the top teams. It's similar to what we did in Copenhagen Flames. It's a very loose style that has a lot of freedom but also a lot of responsibilities for the individual player, where we don't necessarily have like strong ideas running out of spawn about if we want to end A or B. It's more about where and how we want to put pressure at the beginning of the round. I think that style of Counter-Strike has a very high ceiling of how good you can play, Vorborg said.
In the first month of existence, refrezh, nicoodoz and the rest of Preasy have won 10 of their first 15 matches, including an impressive 2-0 victory against the Russians from BetBoom. Preasy is currently ranked #64 in the world.