Dust2, the most iconic and famous map in the Counter-Strike franchise, was originally created by David Johnston, who also created Cobblestone. The classic map was recently reworked by Valve, who stated their aim was not only to improve the famous map visually, but also to improve the gameplay. But the map layout ended up being left primarily the same, with minor changes and improvements in dark areas. Dust2 officially replaced Cobblestone in the map pool in 2018.
David Johnston received an overwhelming success of the original Dust and therefore wanted to initially name the sequel Dust3. The reason David Johnson himself gave was "on the basis that the third instalment of any movie trilogy is typically never as good as the first one, I decided to call it Dust3, and hoped no-one would notice".
Jess Cliffe who co-created the Half-Life mod Counter-Strike with Minh Le and started the Counter-Strike series, advised David Johnston to rethink his decision before releasing the map. Eventually, David decided to change it to Dust2.
Get the full story:
Iconic spots
Long on Dust2 is one of the most iconic places in Counter-Strike, coming back from the early 1.6 days. It's famous for its quick and straightforward engagements, with its lack of spot to hide or play around. Most of the time, the player with the best and fastest aim wins the duels.
Historical plays
The Swedish CS:GO team of fnatic is one of the most renowned and biggest teams in the history of Counter-Strike, and has for many people been equal to high success when talking about competitive Counter-Strike.
During the Grand final of the ESL One Cologne 2015 Major Championships where the Swedes were up against Team EnVyUs, fnatic decided to bring out a completely unseen strategy. In overtime, the heavy-stacked fnatic team decided to make a heavy investment and go all-in on their weapon arsenal, by equipping four AWPs in one round. Every player in the squad set their sight towards middle for a potential peek by a Team EnVyUs player. Right after the round started, a completely unaware and almost helpless Dan "apEX" Madesclaire chose to take a look through mid-doors up at T-spawn, where he was met by those four sniper rifles who all had their scope set on him.
The rest is history:
All-time best player stats
1.  
ZywOo
| 107 Maps | 2807 Rounds | +601 K-D Diff | 1.36 K/D | 1.25 Rating
2.  
s1mple
| 149 Maps | 3997 Rounds | +834 K-D Diff | 1.34 K/D | 1.23 Rating
3.  
device
| 181 Maps | 4702 Rounds | +813 K-D Diff | 1.28 K/D | 1.19 Rating
4.  
woxic
| 78 Maps | 2033 Rounds | +347 K-D Diff | 1.28 K/D | 1.18 Rating
5.  
NiKo
| 171 Maps | 4651 Rounds | +670 K-D Diff | 1.22 K/D | 1.17 Rating
Callouts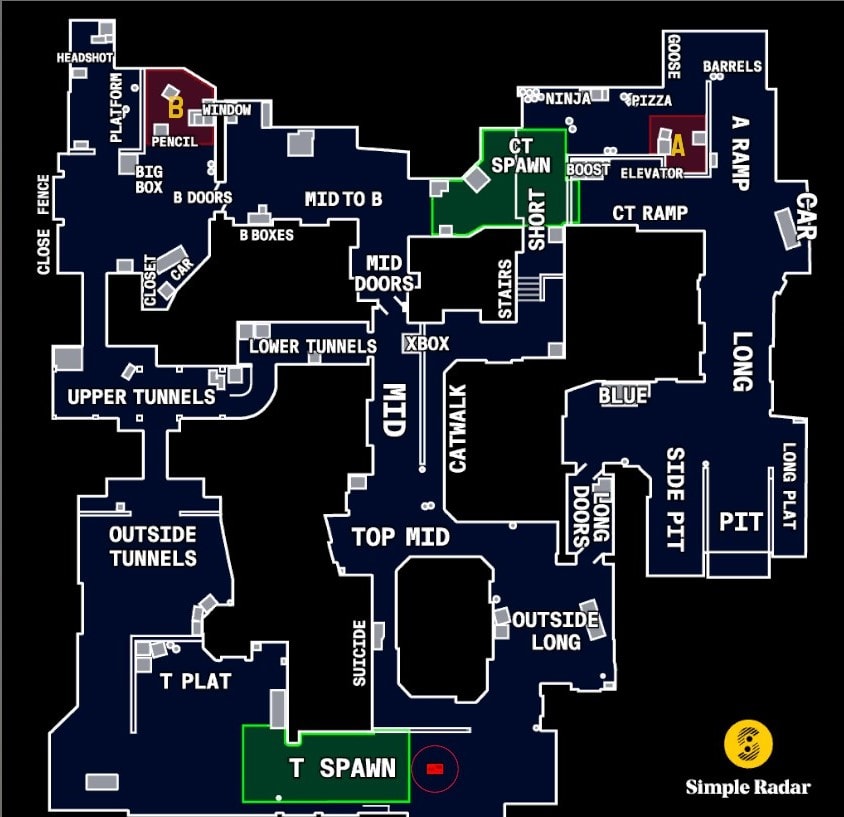 Take a look at the essential nades everyone should know to gain an edge on the map.