Are you looking to show off your skills in CSGO? Impress your friends with some beautiful-looking skins? Or just want to pimp up your inventory? Then you have come to the right place! Right here in this article, we'll go through the best weapon skins CSGO in 2023, important stuff about skins CSGO, and much more. So, stay tuned!
In a competitive first-person shooter like CSGO, having the flashiest skin in your inventory or the best weapon skins CSGO is a close second to having the best skills and aim. CSGO boasts hundreds of skins for the almost 60 weapons accessible in the game, despite the fact that it has been around for nearly a decade. CSGO skins are received randomly, and organically, from either mission rewards or weapon cases.
The Steam Marketplace, on the other hand, is a more common way of ensuring the purchase of skins. CSGO players that obtain skins via case openings can sell them on the Steam Marketplace, where users can buy them directly without risking drop probability. CSGO skins have become a type of currency in the CSGO ecosystem due to a combination of popularity, supply, and demand. You can also trade, buy, or sell your skins at other marketplaces such as SkinBaron, Skinport, or Swap.gg.
Before we take a look at the best weapon skins CSGO, let's talk a bit about the two groups of quality (wear and tear).
Quality of CSGO skins
When it comes to CSGO skins quality, there are two types of quality groups: weapon exterior quality and weapon rarity. There are eight rarity grades as of today, however only six of them are normal grades that apply to the CSGO weapon skins.
Consumer Grade (White)
These "white" CSGO skins are the most common skins CSGO you can receive as a drop after a competitive match. It's also possible to get them by trading with other CSGO players or by purchasing them through the Steam Market. Most of these CSGO weapon skins cost just a few cents, but there are also Consumer Grade CSGO skins that can cost up $20. They are good for Trade Up contracts in-game, with a few exceptions.
Industrial Grade (Light blue)
Industrial Grade CSGO skins are slightly more rare than white Consumer Grade skins, but they're still quite common and widespread. They're frequently dropped as random rewards after matches. The expensive skins in this category can cost up to $60, which is extremely rare for a skin in that rarity grade. Of course, souvenir CSGO skins are not included because they're a separate category of skins.
Mil-Spec (Blue)
The Mil-Spec skins, better known as the blue ones, are the most basic type of CSGO skins that can be dropped from any case collection in the game. Blue Mil-Spec skins are also easily obtained through Trade Up contracts and are mostly useful for further Trade up contracts. Although most CSGO skins in this category are priced between a few dollars, there are also very expensive skins in this category, such as the elegant AUG | Hot Rod, which costs around $215 in Factory New.
Restricted (Purple)
CSGO skins in this category are more difficult to get compared to the Mil-Spec ones. There are some quite attractive and beautiful CSGO weapon skins in this category, such as the Glock-18 | Fade, which can cost up to $1000 in Factory New.
Classified (Pink)
These CSGO skins are very rare, which means that the majority of them are rather expensive and can cost hundreds of dollars per piece. Some of the best weapon skins CSGO in this category easily goes for $400 or even more.
Covert (Red)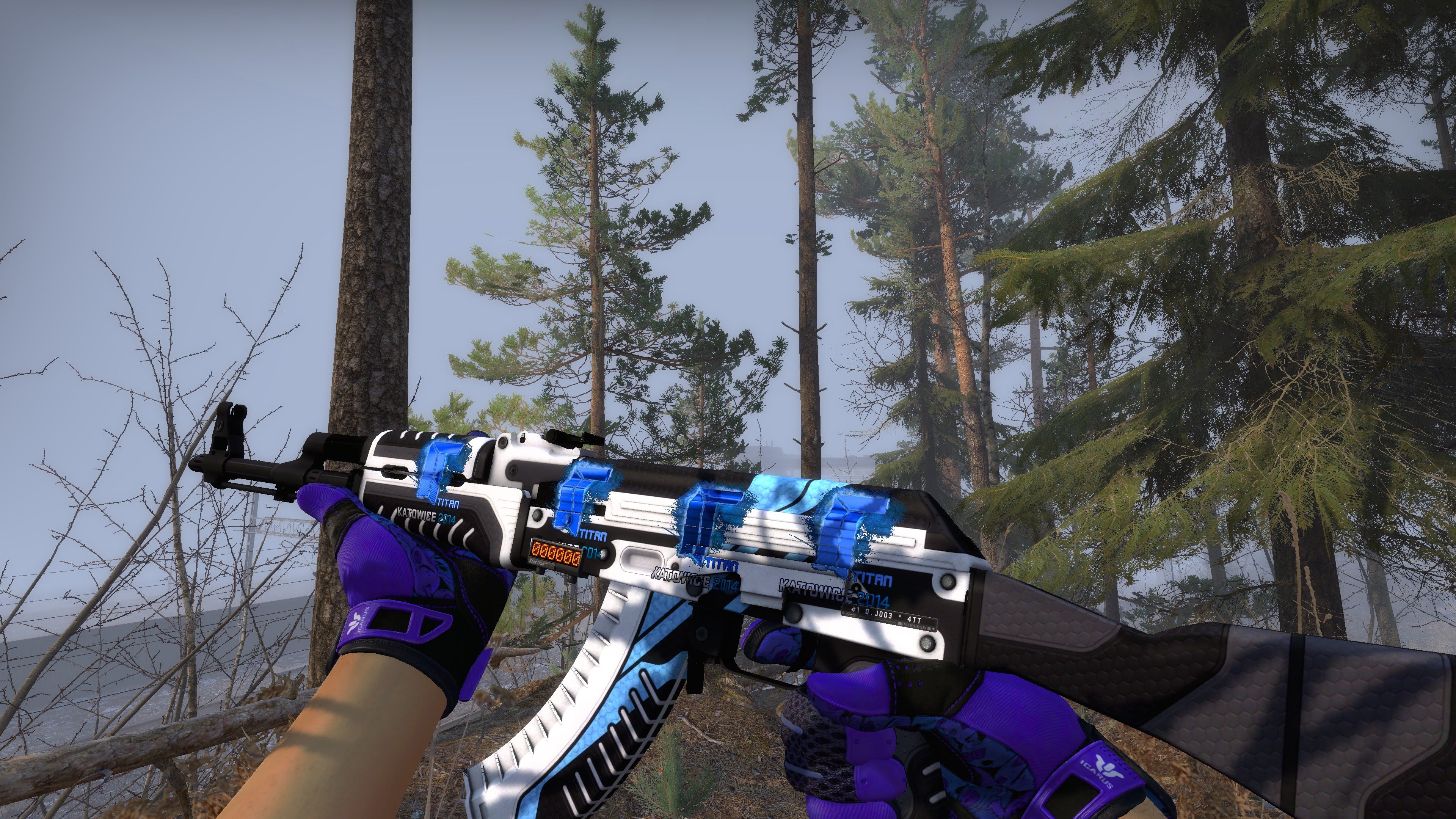 The Covert skins are on the top of the best weapon skins CSGO. Most of these skins in this category are for AK-47, M4A1-S, M4A4, and AWP.
Wear levels of CSGO skins
The wear level is an in-game stat that indicates the condition of a given CSGO skin. It's expressed as a float value that ranges from 0.0 to 1.0, with 1.0 indicating that the skin is completely worn down. When a CSGO skin is obtained via a case or dropped, the game assigns it a random float value, which has a direct impact on the skin's look. The higher the float, for example, the less visible the artwork on the given skin is.
As you have probably guessed, it all influences the price of a certain CSGO skin. In general, the higher the skin's wear level, the lower the price, but this isn't always the case. Some of the best weapon wore-down CSGO skins, for example, can attract greater prices if the community finds them more appealing than the clean ones.
Here is a complete list of wear levels:
Battle-Scarred
Although they make up for the majority of drops, this does not imply that they are useless or worthless CSGO skins. The Battle-Scarred float ranges from 0.44 to 1.0. Even though they are the most affordable weapon skins CSGO, that doesn't mean you won't be able to find something good with that wear level. With this float, Covert and Classified skins can still be rather valuable.
Well-Worn
With a float between 0.37 and 0.44 on the Well-Worn level, you can start to find the skin world's underdogs. Some of the well-worn skins look awful, while others are barely worse than the higher level CSGO skins. In this category, you'll find CSGO skins that are both reasonably priced and ridiculously cheap.
Field-Tested
On this level, the skin's damage usually starts to be more visible with scratches for example. While they normally have a lower market value, they make account for the most profitable trades when combined with the Minimal Wear CSGO skins, as the balance between skin quality and market volume strikes a sweet spot with certain skins from these two wear levels. The float of the Field-Tested skins ranges from 0.15 to 0.37.
Minimal Wear
CSGO skins in Minimal Wear are less expensive than Factory New CSGO skins, with little no reduction in skin quality. Given the low price and negligible wear, Minimal Wear CSGO skins are usually the most popular. Their float value is in the range of 0.07 to 0.15.
Factory New
With floats ranging from 0.00 to 0.07, the Factory New CSGO skins are the best-looking ones on the CSGO Skins Market. They are typically the costliest skins CSGO, costing significantly more than the best weapon skins CSGO in Minimal Wear. For what is known as "overpay for float," certain lower-end floats sell for absurdly high prices.
How do I check my skin's float value?
To check the skin's wear rating, go to your inventory in CSGO and click on view item. Just below the item description, you'll find the float value. Aside from the CSGO inventory, you can use a third-party CSGO skins site that not only provides the float value but also allows you to sort CSGO skins by it, while also providing a price. Cs.Money and Buff.163 are two great examples of prominent sites that provide this functionality.
Popular skins in CSGO
With so many different skins CSGO, we have compiled a list of the best weapon skins CSGO, including for those of you who are on a budget and are looking for the best weapon skins CSGO in your price range.
In person, a weapon appears stunning with dark colors and cold metal. Weapons in real life are a measure of strength and brutality, but CSGO has another approach. In Counter-Strike, a weapon can be vibrant, colorful, and filled with beautiful artworks. CSGO skins add many different types of colors to the game, which helps make it eye-catching. Each CSGO skin has its own history of creation just like a weapon in real life has.
Here is our list of the most popular and best weapon skins CSGO available on the CSGO skins market right now:
AK-47 | Vulcan
M4A4 | Howl
AWP | Dragon Lore
USP-S | The Traitor
AK-47 | The Empress
Desert Eagle | Blaze
Desert Eagle | Fennec Fox
M4A1-S | Printstream
AWP | Atheris
AWP | Asiimov
CZ75-Auto | Xiangliu
P2000 | Imperial Dragon
P90 | Shapewood
Galil AR | Eco
P250 | Cartel
M249 | Aztec
MP5-SD | Gauss
UMP-45 | Arctic Wolf
XM1014 | Seasons
Glock-18 | Fade
R8 Revolver | Reboot
Glock-18 | Weasel
MAG-7 | Praetorian
PP-Bizon | Fuel Rod
Famas | Pulse
Karambit | Marble Fade
M9 Bayonet | Lore
Classic Knife | Crimson Web
Navaja Knife | Doppler
Bowie Knife | Blue Steel
Ursus Knife | Stained
Five-Seven | Angry Mob
AWP | Neo-Noir
MP7 | Bloodsport

This was our list of the best weapon skins CSGO. These CSGO skins are all handpicked from Counter-Strike: Global Offensive's s large catalog of weapon skins, and they're without a doubt some of the best weapon skins CSGO you can find out there!
These CSGO skins will pimp up your inventory and fill your game with brand new colors. Are you looking for more information about the best weapons skins CSGO? Or anything regarding CSGO skins? Then head over to our dedicated CSGO skins section, where you can find plenty of information regarding the CSGO skins market.
If you are looking to earn free skins then visit freecash.com.